Gaelic Games:
Click on the picture to view Riona Kelly's presentation:


2. Get into
A HISTORY OF THE WORLD
, by the British Museum & the BBC.
Click here.
Resources for the class about the Emerald Island and St. Brigid's Day
St. Patrick's Day
St Patrick's Day in their lessons this week or next and are looking for a source of inspiration.
For younger primary children a short video:
Older Primary teaching ideas:
For older childern/ teens or adults: a reading text with comprehension questions. To make this a bit more dynamic you could cut up the questions and stick them up around the room. Work in groups of 3-4. Each group takes it in turns to send a person out to read the question from the wall and then relay it back to the group, who have to find the information from the text , mark it and come up with an answer as a group. Rotate roles like a relay race.
Ireland 101:
Click on the island's picture and get into each country.
Amazing resource!
Literary map of Ireland:
Take a journey through the stunning landscapes that Ireland's authors, and their stories, call home.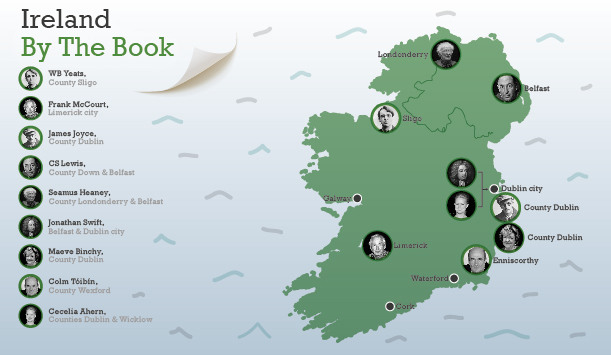 Click on the picture
Ever wondered where Ireland's greatest writers get their inspiration?
It's all around them, in Ireland's legendary landscapes
Download a PDF map of Ireland with these literary legends right here for classroom decoration.
Traditional Irish music was once the most popular music in Ireland. New styles of music became more popular during the 20th century.

Information about sports, useful for 2nd and 4th of ESO
HURLING
Have you heard about or been lucky enough to visit an Irish speaking area, called a "Gaeltacht" in Irish?
Check out where they are and about them on this info from Wikipedia:
https://en.wikipedia.org/wiki/Gaeltacht
It's interesting that whilst the number of people who are speaking Irish on a daily basis in the gaeltacht is reaching a near critical level, the success of Irish immersion schools is growing. They are called "
Gaelscoileanna" and have acquired a reputation for providing excellent academic results.
More
info on the Gaeltacht:
Much like the debate in Spain for bilingualism, be it English, Galician, Basque or Catalan/Valencian, S

upporters argue that the early acquisition of another language is of general intellectual benefit and helps children to learn other languages too. Irish-language advocates of the immersion approach sometimes refer to studies showing that bilingual children have advantages over monoglot children in other subjects and enjoy other cognitive benefits as well.
https://en.wikipedia.org/wiki/Gaelscoil
Kiss the Blarney Stone and get the gift of gab
Abhartach
Everyone has heard of Bram Stoker and Dracula. When people think of vampires, they don't think of Ireland having vampires in their mythology.
Abhartach, also known as Avartagh, was Ireland's own Dracula and many scholars believe that the story was the original inspiration for Bram Stoker to write his famous novel about the Transylvania prince, Vlad the Impaler.
Abhartach was an evil magician who had very strong dark powers and treated his subjects very cruelly. In some tales it is said that he was a dwarf and others state that he was just badly deformed. (Avartagh, which he also known as, is Gaelic for dwarf). In the Dark Ages, he ruled a small kingdom in Derry. This was a time when Ireland was broken up into many small kingdoms and was ruled by chieftains who usually fought with each other. Abhartach's subjects hated and feared him so much that they called upon a neighboring chieftain named Cathrain to kill their evil ruler. Cathrain took on the challenge and killed Abhartach, then buried him standing upright because he was so evil and didn't deserve a descent burial. The grave didn't keep him for long. He soon returned and treated his subjects worse by demanding a bowl of blood drained from their veins for food and tribute. Cathrain returned and killed him again. For a second time, Abhartach returned and asked more tributes from his subjects. Feeling desperate, he went to a Druid asking for advice. He said that Abhartach was of the undead and could not be killed.but he could be restrained. This task could be done by 'killing' him with a sword made from yew, then piercing his heart with a yew stake. He then must be buried upside down with thorns and ash twigs scattered around him and then a giant stone must be placed on top of his grave to keep him in. Also holy thorn bushes must be planted around his grave. Of course, Cathrain did this and there in his grave, Abhartach remains until this day.
The tale of Abhartach or Avartagh was first collected into written form in Patrick Weston Joyce's The Origin and History of Irish Names of Places in 1875. Many scholars believe that this story of Ireland's vampire is the original inspiration for Bram Stoker's famous novel, Dracula. This isn't hard to believe, considering that Bram Stoker lived in Ireland for a time. Even the name Dracula has an Irish connection. Dracula in Irish was droch-fhoula pronounced droc'ola meaning bad or tainted blood.
MUSIC
Only A Woman's Heart - Eleanor McEvoy & Mary Black
Whisky in the jar
Here comes a classic band, The Dubliners and Whisky in the jar.
Galway girl:

thousands of Galwegians playing it in Galway
James and Ed Sheeran go for a drive in Los Angeles singing songs off Ed's new album, and James challenges Ed to fit as many Maltesers in his mouth after hearing he once fit 47.
Modern Irish music-Van de Man
Who is the Irish singer who sounds the least Irish when he/she sings?
One contender must be Van Morrison who I think sounds more American than Irish....
Featuring his characteristic growl—a mix of
folk
,
blues
,
soul
,
jazz
,
gospel
, and
Ulster Scots
Celtic
influences—Morrison is widely considered by many rock historians to be one of

the most unusual and influential vocalists in the history of rock and roll.
Here's one of his early ones, written when he was just 18 "Gloria"
https://youtu.be/vvaaU0l0p5k
I defy you not to be cheered up (and not join in on the chorus) by his classic

"Brown Eyed Girl"
https://youtu.be/kqXSBe-qMGo (the original version /video -no lyrics)
https://es.lyricstraining.com/play/van_morrison/brown_eyed_girl/HpBOeCat9p#b7w (beginners level on Lyrics Training, where you have to type in the missing words-ideal to use with students. You can search for songs in theory by genre, artist or title. But sometimes it's better to google the title and artist along with "Lyrics Training. ")
And of course the foot tapping "The Bright Side of the Road"
https://www.youtube.com/watch?v=rCDZzf4ragg (scroll down in the comments below for the lyrics)
Do you have any favourite Van Morrison tracks?
IRISH STEP DANCING
Anyone fancy learning a few basic steps of Irish dance? The dance teacher here is American rather than Irish and a bit scary! However she breaks the steps up and speaks very clearly in a nice short video. There are accurate subtitles too.
There is a whole series of videos if you want to take it futher!
Another American teacher who briefly explains basic points to remember in a short video.
Plus some basic info about Irish dance: there are two types of shoes-soft and hard.
Plus some theories on why Irish dancers (somewhat uniquely in dance- it makes it harder to balance) normally have their arms straight down by their sides.
Finally : see how it's done by the world champions in these short news report videos.
Ironically enough, most of the champions seem NOT to live in Ireland.
IRISH FOOD
A delicious Guiness cake ofr St. Patrick's Day
IRISH LITERATURE:
Poetry
We can't forget to mention James Joyce, a famous Irish poet and novelist. He was considered one of the most influential writers in the modernist avant-garde of the 20th century.
Here's one of his poems, which you can even read to your students in class.
The Lake Isle of Innisfree,
W. B. Yeats

,

1865

-

1939

I will arise and go now, and go to Innisfree,





And a small cabin build there, of clay and wattles made:





Nine bean-rows will I have there, a hive for the honey-bee;


And live alone in the bee-loud glade.




And I shall have some peace there, for peace comes dropping slow,





There midnight's all a glimmer, and noon a purple glow,


And evening full of the linnet's wings.




I hear lake water lapping with low sounds by the shore;


I will arise and go now, for always night and day



I hear it in the deep heart's core.



IRISH GAELIC
In this interesting link the speaker talks about differences in terminology when referring to the Irish and Scottish languages.
CLASS RESOURCES
Here's a link for a couple of activities to try out with adults or secondary level.