Gaelic Games:
Click on the picture to view Riona Kelly's presentation:


2. Get into
A HISTORY OF THE WORLD
, by the British Museum & the BBC.
Click here.
Resources for the class about the Emerald Island and St. Brigid's Day
Ireland 101:
Click on the island's picture and get into each country.
Amazing resource!
Literary map of Ireland:
Take a journey through the stunning landscapes that Ireland's authors, and their stories, call home.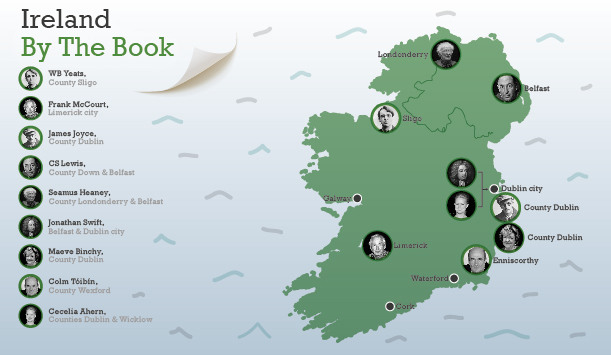 Click on the picture
Ever wondered where Ireland's greatest writers get their inspiration?
It's all around them, in Ireland's legendary landscapes
Download a PDF map of Ireland with these literary legends right here for classroom decoration.
Traditional Irish music was once the most popular music in Ireland. New styles of music became more popular during the 20th century.

Information about sports, useful for 2nd and 4th of ESO
HURLING